Orleans is called the hub of the Lower Cape. I believe Orleans has the best of everything. There are great restaurants, quaint village area, both Cape Cod Bay beaches and Atlantic Ocean Beach. The bike trail runs through Orleans Village. From there you can ride toward Brewster or up into Eastham and onto the National Seashore.
There are several areas that make up Orleans. There is the area going toward Nauset Beach which is called East Orleans. There is the Bayside area by Skaket Beach and Rock Harbor. Then there is South Orleans out along Round 28 toward Pleasant Bay heading toward Chatham. The village area has wonderful shops, restaurants and a mix bag of condos and single-family homes.
Even within each of the above areas of Orleans there are smaller areas within each of the different sections of Orleans. Within East Orleans there are lovely neighborhoods and associations. One of popularity is Nauset Heights. This area is surrounded by water on 3 sides. There is Nauset Beach and the inner waters of Nauset Harbor and Mill Pond. These homes are desirable because there is great access to the outer Nauset Beach area as well as the calmer waters of Nauset Harbor.
Take a look here at the highest priced Orleans home for sale. Located in Nauset Heights this brand new home is perfect in and out. It has gorgeous views of Nauset Beach & beach access down a flight of stairs. Stunning design, finishes and views from this custom designed and built PSD (Polhemus Savery DaSilva) home.
Here is a picture of Priscilla Landing / Nauset Harbor in Nauset Heights. We recently sold a property there for $754,000. The location almost can't be beat. The new owner has put her stamp on it and made it a lovely Nauset Beach cottage.
Skaket Beach is one of the most popular Cape Cod Bay beaches on Cape Cod. It is typically warmer, calmer and has the best sand. The sunsets are fantastic! At low tide the water recedes so far out that you can walk about a mile out on the tidal flats before you reach water that is swimmable.
The homes in this area, especially those that are considered to be within a walk to Skaket Beach are in high demand. There is not much that comes on the market in this area. At this point we have a very rare situation with 2 homes being on the market at Skaket Beach. One is a turn-key home situated on Seabreeze Lane with private beach access at about 1000 ft. That is listed at $774,900. It has 4 bedrooms and 2 bathrooms. Our other Skaket Beach listing is right at the beach. So the location is an A+. The house needs some TLC but is well worth the effort and investment. Once renovated it would be worth up close to 2 million. You can see these two Skaket Beach homes for sale by clicking on the links below.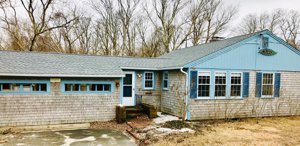 There are new properties being built in the village right now. They will provide an in town location which is convenient to all the great restaurants we have here in Orleans. Being on Cove Rd. in Orleans is the perfect in town spot. The new condos are being offered at $795,000. You can view them here - Orleans Village Condos.
Prices in Orleans range from around $150,000 to $9,250,000. The lower end of the price range are typically town homes and condo apartments in the village area of Orleans. Take a look here at all Orleans homes for sale.
Our Current Homes For Sale